MMAD Win Comedy Award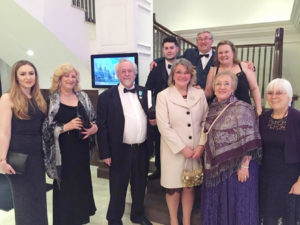 MELKSHAM Music and Drama Club (MMAD) took the title for 'Best Comedy Production' in the South West at a special awards ceremony in Bristol this month.
The group won the National Operatic and Drama Association's comedy category for its production of 'Act Your Age', which the playwright said was one of the best renditions of his work he had seen.
MMAD chairman Geoff Mitcham said, "The evening was overwhelming and the reaction on our table when they announced the winner said it all.  Both director Sharon and I couldn't wait to get our hands on the trophy!
"Huge congratulations to everyone at Melksham Music and Drama who made this accolade possible.  We would like to take this opportunity to thank everyone who regularly supports the club by attending our performances."
MMAD performed the play to the public at the Rachel Fowler Centre over four days in September last year.
On the last night of the performances, Christopher Wortley, the author of 'Act Your Age', attended the show and was thrilled by the portrayal of his farce.
He commented that it was one of the best performances of his show that he had seen, and complimented MMAD on the outstanding set built by club members Kevin Hodges, Simon Hoy and Justin Haggett.
Dee Way, South West  regional representative from NODA said, "There was a variety of believable characters and the accolades for this performance have to go to the actors, all of whom did a great job in creating the wide variety of characters needed.
"There is a lot of talent here; the whole cast acted well to make the production very successful and a very good team effort. This was a really fun evening. I have not laughed so much for years and I thoroughly enjoyed the entire show."
MMAD's Linda Mence added, "The response from the audience was fantastic as this production was no mean feat!
"Timing was critical for the very fast-paced farce to be effective. The comings and goings of the cast amazed the viewers as they changed their identity from old folk to celebrities and also sanctuary staff with hilarious outcomes. The show songs were all new and some were sung in three part harmony."